I made this recipe today! Wow! It is so good! AAA+ If you need to bring something to a potluck, or to family event this is really good. Maybe, you like to bake some for gifts. I baked mine in two smaller pans...rather than one large pan. I also put some extra cranberries on the top of the batter before it was baked. It is from Pinterest.
ORANGE CRANBERRY BREAD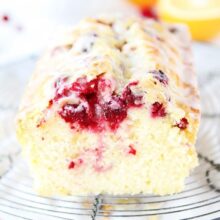 INGREDIENTS:
FOR THE BREAD:
1 1/2 cups all-purpose flour
1/2 teaspoon salt
1 teaspoon baking powder
1 cup granulated sugar
Zest of 1 large orange
3/4 cup buttermilk
1/2 cup canola or vegetable oil
2 large eggs, slightly beaten
1 tablespoon fresh orange juice
1/2 teaspoon vanilla extract
1 cup fresh cranberries
FOR THE ORANGE GLAZE:
1 cup powdered sugar
1 1/2 tablespoons fresh orange juice
1 teaspoon orange zest
DIRECTIONS:
Preheat oven to 350° F. Spray a 8 1/2 x 4 1/2 loaf pan with cooking spray and set aside.
In a large bowl, whisk together the flour, salt, and baking powder. In a small bowl, combine sugar and orange zest. Rub together with your fingers until fragrant. Whisk into the flour mixture. Set aside.
In a separate medium bowl, combine the buttermilk, oil, eggs, orange juice, and vanilla.
Slowly add the wet ingredients to the dry ingredients. Stir until just combined. Fold in the cranberries. Pour batter into prepared loaf pan.
Bake for 70-75 minutes, or until toothpick comes out clean. If your loaf starts to get too brown drape a piece of foil over the top to finish baking. I did this during the last 10 minutes of the baking time.
Remove bread from oven and place on a cooling rack and cool for 15 minutes. Loosen the sides of the bread with a knife. Carefully remove loaf from pan. Let cool completely on wire rack.
While the bread is cooling, make the orange glaze. In a small bowl, combine powdered sugar, orange juice, and orange zest. Whisk until smooth. Drizzle the glaze over the bread. Cut and serve.
Note-store the bread, wrapped, on the counter for 2-3 days.
All images and text ©
.