Saturday, August 11, 2018
Dear Searching Soul,

The things that may bring happiness to some, may be the very things that leach all of the energy out of you. It is okay to find your joy in places that may seem strange to others...and it is okay if you do not enjoy the same things that seem to bring happiness to others.

Follow the call of your very own yearnings.
Listen to the voice of your soul.

And as you choose whatever happy means to you...allow others to choose their happy, too.

You are so very loved.

xoxo
I am getting ready to travel to Boise on Monday. You know to deal. Today, I selected the clothing and things that I want to take with me. I am an over-packer...I just want to have choices...and that cause me to travel heavy. Well, at least I am driving to Boise. I can bring my ukulele, and other things. It is going to be hot, the mid-90's. Maybe, I should throw in a light jacket...just in case.
I found a nice place to stay using VRVO. Last time I went to the Brave Girl Symposium I selected the hotel where the event was held. It was very expensive and I was not happy with it. So, I decided to find another choice.
Posted by

Sharon
at 9:33 PM
No comments:

Friday, August 10, 2018
The heat wave here has lasted for weeks and it is difficult to live here. The good thing is that we are currently not having smoke in the air.
Crystal Light makes several drink mixes that I love. This one, Raspberry Green Tea, is today's favorite. The small packets are easy to use, and it is low calorie (5 calories).
I use an Aladdin plastic mason jar. It is insulated for cold drinks, keeps drinks cold a bit longer, it has a nice handle, and the best thing is that it does not sweat.
This is not an ad, just my personal recommendation. I also love AC!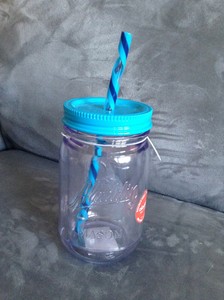 Posted by

Sharon
at 5:53 PM
No comments: